In March 2000 Anthony Pennino Jr, who had already developed a reputation as a skilled airsmith, received certification as a master airsmith by the PAINTBALL TRAINING INSTITUTE.  Anthony trainedl IPS technicians to put quality and customer satisfaction first.

From 2002 to 2014 the Pennino Brothers: Anthony, John, and Al fulfilled a long time goal:  PAINTBALL ARENA indoor playing field.  In the Spring of 2009, IPS combined locations with Paintball Arena; in the summer of 2014 Island relocated to 152 Jericho Turnpike, Huntington Station.

ISLAND PAINTBALL SUPPLIES was named after another Pennino business that for decades stood on Jericho Turnpike: Island Power Tools, owned and operated by Tony's parents, Albert and Mary Pennino.  Island Paintball continues the same approach that has characterized it since the late 80's: continuous growth, a commitment to quality service, and a constant drive to bring more people into this awesome sport.

By 1988, the renamed ISLAND PAINTBALL CLUB had almost two hundred people on the mailing list.  The basement and garage at Tony and Charlene Pennino's home were being converted into a makeshift paintball store.  When the latest paintball guns and accessories were being displayed on walls that used to have PAINTINGS,  display cases were being brought into the basement, and dinner was being interrupted by paintball business calls, the Penninos knew it was time to take the next step.  In 1990 a small shop was rented at 905 East Jericho Turnpike in Huntington Station, and Island Paintball had a storefront!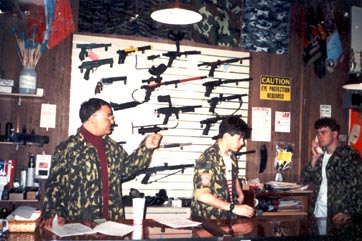 Over the next decade, Island has pushed the growth of the sport on Long Island and beyond.  In 1992, Island doubled in size, moving in to the adjacent storefront.  The following year, it doubled in size again, breaking through the wall to occupy the store beside it as well.  By 1996, Island moved across the street to share a much larger store with the Strategy Game Corner at current location, 770 East Jericho Turnpike. 

Island Paintball Club games were moved to another, larger patch of private woods in Middle Island, where monthly club games were highlighted by seasonal tournaments and scenario games until 1996.  From 1987 to 2000, Island Paintball hosted an annual weekend scenario event on private land in Thompson, Pennsylvania: PAINTBALL CAMP. 

Anthony Pennino Sr. played his first paintball game in 1985 at AMERICAN AIR GUN GAMES.

A high school social studies teacher, Tony had been talked into playing paintball (then called the "Survival Game") by one of his students.  Not to be unprepared, Tony went out and bought some camos at a local army/navy store, then bought the one paintgun used at the time, the bolt action Nel-Spot 007, from a local sporting goods store.  Together with brother-in-law Joe Opatovsky, they were ready to play.

"IT'S LIKE BEING A KID AGAIN!"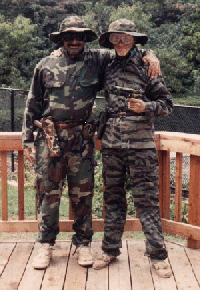 Tony Pennino and son Al getting ready to play, summer 1986.

Soon Pennino son Al, nephew Joe Opatovsky Jr., and friend Steve Schneider got into it and started to spread the word about this amazing game.  By the summer of 1986, THE LONG ISLAND SURVIVAL GAME CLUB was born: 20 to 30 players running around the woods on private land owned by Grandma and Grandpa Pennino.  Mary Opatovsky and the rest of the Penninos: wife Charlene, daughter Maddalena, and sons Anthony Jr. and John were quickly involved playing and/or helping run games.

At first, people would go to sporting goods stores to find the few paintguns, paintballs, and 12 gram CO2 cartridges available at the time.  Shop goggles were the only protection used back then!  In 1987, everything changed: we got hold of the premier issue of the first magazine devoted to the sport: Action Pursuit Games.  Soon we were ordering bulk paint and CO2 from the few brand-new distributors.

Demand led to the birth of a basement business in 1988, as the growing number of players in the Club wanted to buy paintguns, better safety gear, and new accessories on the market (like the pump modification for the bolt-action Nel Spot...).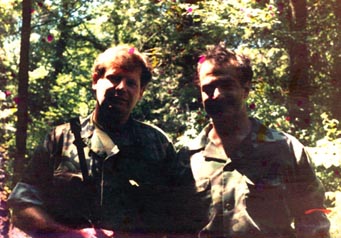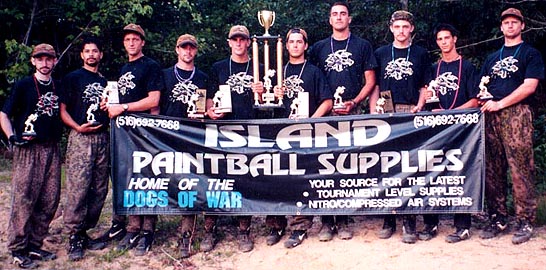 Dogs Of War, 1st and 4th places, 1997 Cousin's Cup

From the start the store had a team: THE DOGS OF WAR. The team started in 1988 and began competitions at American Air Gun Games in 1989, steadily making a name for itself on the tournament scene.  By 1998 the team was nationally known as the NEW YORK DOGS, a tough and honorable adversary on the field.  The Dogs were a top ranked 5 man team on the national curcuits from the mid 1990s to 2001, when the team finished in the top 4 at the world famous SKYBALL event.  The Dogs then competed in the NPPL series through 2006. 

IPS and Arena have been proud to support many tournament and recreational teams, including LIFT, WIRED, Patton Ave Kids, and the Wild Geese.  As players we care about our customers and the sport!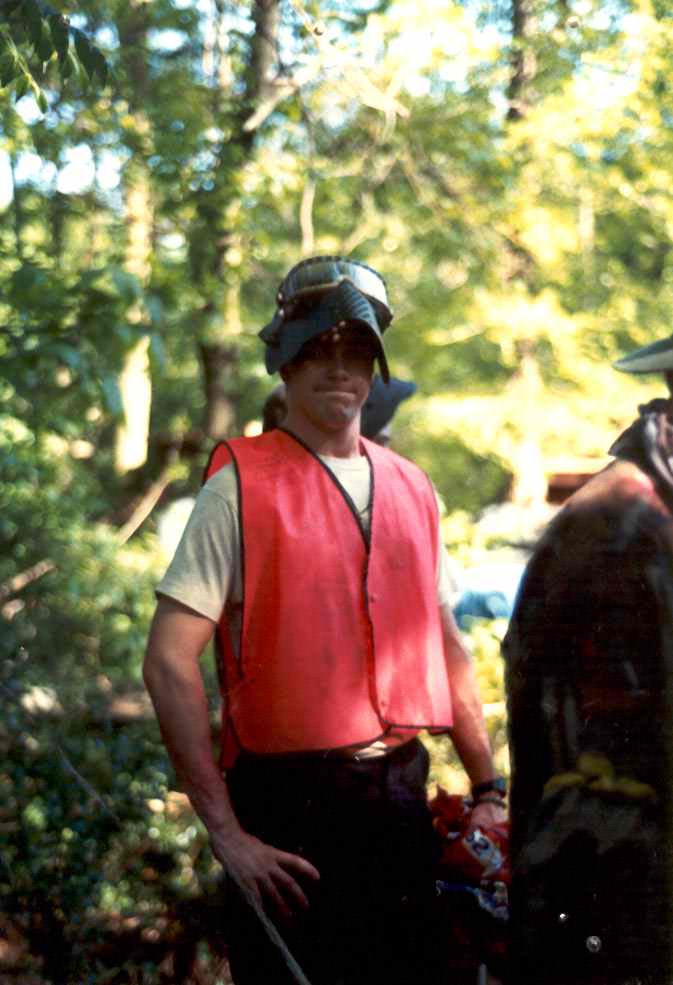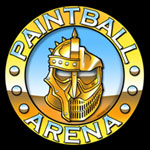 Joe Opatovsky and Tony Pennino, 1987

Island Paintball Club, 1986

Tony, Anthony Jr, and Al at IPS, 1990

Al reffing a club game, 1987

HISTORY OF ISLAND PAINTBALL SUPPLIES AND PAINTBALL ARENA

Island Paintball is your source for paintball and airsoft game information and supplies.  We have been building the sport of paintball since the late 1980s.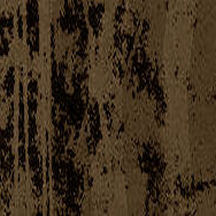 631-423-9086              152 West Jericho Turnpike, Huntington Station, NY 11746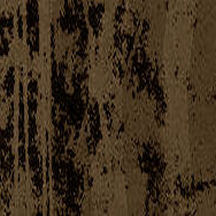 IT ALL STARTED IN THE WOODS IN 1985...





























Click the image to read about the Island Paintball family in an article printed in the April 25, 2004 New York Times.


PAINTBALL ARENA:

AS SEEN ON COMEDY CENTRAL!